China Comservice's 2018 Annual Report Won 3 Gold Awards and Other Accolades in International Competitions
28 Nov 2019
China Communications Services Corporation Limited's 2018 annual report won 3 Gold Awards, including "Cover Photo & Design", "Traditional Annual Report" and "Infographics" in "International ARC Awards". Besides, the Company also won Platinum Award and ranked 24th in the Top 100 Reports Worldwide of the "Vision Awards" in LACP (The League of American Communications Professionals).
The 2018 annual report of China Comservice used "New Era of Digitalization; A Hundred Billion Enterprise" as its theme, and illustrated its innovative transformation to achieve a hundred-billion scale. Besides, the annual report presented to its reader that the company has diversified customers. By taking full advantage of the multi-profession capabilities to enrich smart product offerings, developing market synergistically and building ecosystems together in open cooperation, the Company strives to capture ample opportunities from the new era of digitalization.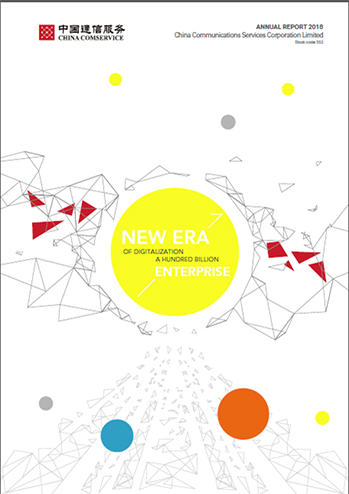 "International ARC Awards" is one of the largest annual report competitions, and it is named as the "Academy Awards of Annual Reports", according to the financial media. The "Vision Awards" organized by LACP is also a worldwide annual report competition that draws wide attention, and there were over 1,000 organizations participated in the contest this year. The above awards are both honoring excellence in annual reports, where they are judged by communications professionals based on various factors including the annual report's overall impression, cover design, interior design, creativity and how well the spirit of the company is reflected in the annual report.